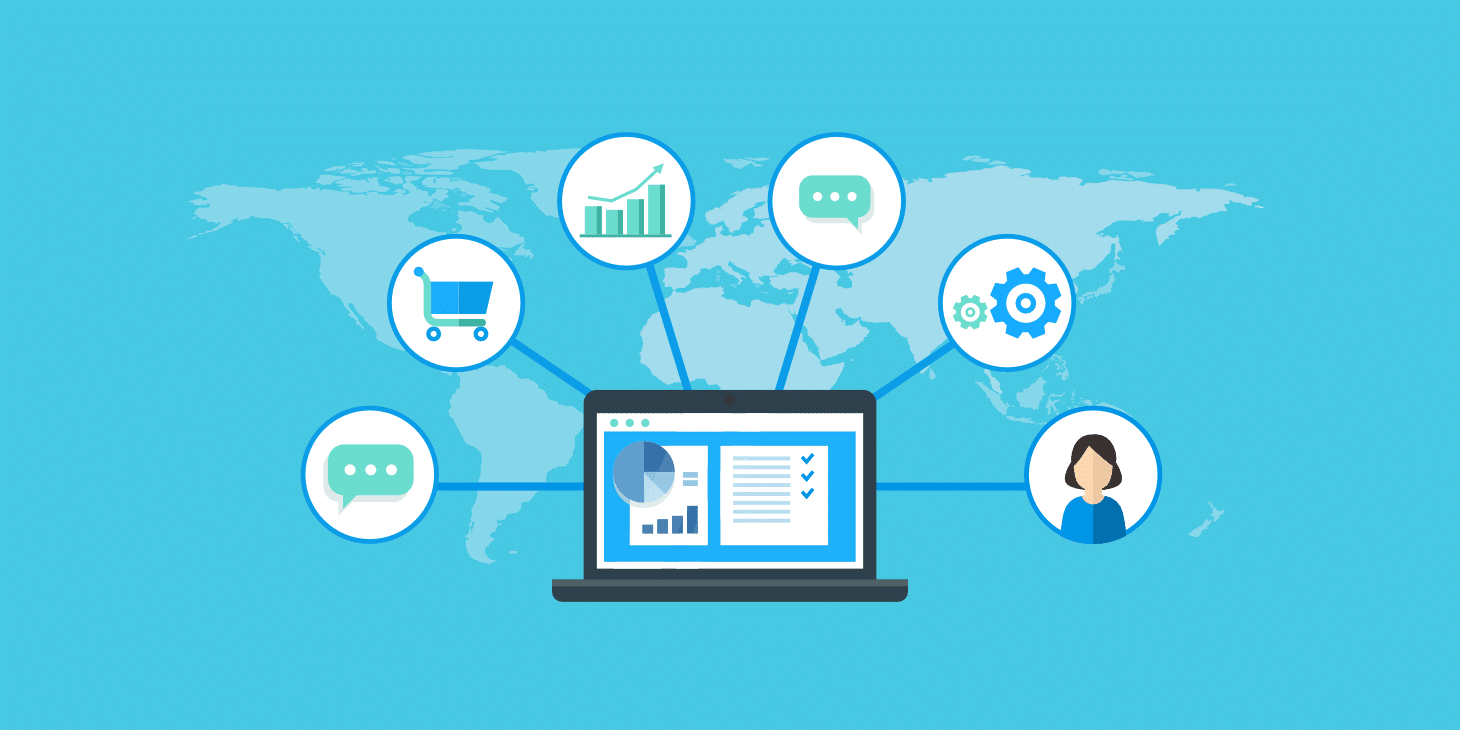 In this post, we are going to discuss what is a Shopify CRM, what to look out for when deciding on a Shopify CRM, some best Shopify CRMs available in the Market now & their pros & cons. Also lets me share my experience with some best Shopify CRMs available in the market.
What is a Shopify CRM?
Shopify CRM or Shopify Customer Relationship Management can be defined as the system to identify, understand, manage, and cater to the Shopify business needs of their prospects and existing customers.
To put it simply, Shopify CRM is a system that:
Helps with capturing all the required information to provide a 360-degree view of customers' interests and preferences.
Provides various options to manage the sales and marketing processes and to interact and engage with customers regularly.
By all means, a Shopify CRM system helps a company strengthen and build long-term relationships with its customers.
Why do Shopify businesses need a CRM?
As a Shopify Business Owner, you have to take customer satisfaction and engagement quite seriously. For you and your team, the customer is the king and you have to go the extra mile to make sure you understand the pulse of every customer and therefore, build a good relationship with them.
To do this you have to keep track of every customer's preferences, their customized orders, preferred colors, and in not-so-rare cases their restrictions too! Here comes the Shopify CRM System.
Managing every aspect of the business can be made easier with a robust Shopify CRM system. It should readily understand the business, unite it with the employees and customers alike and capture the business information such that one gets a holistic view of each customer in real-time.
Advantages of Shopify CRM
Shopify CRM application helps you save a lot of time by enabling you to automate most of your tasks.
It functions by integrating people, processes, and technology – the "people" being your customers and sales representatives, the "process" being sales. If yours is especially a medium/large enterprise, you should definitely use the Shopify CRM application.
When you do, you will some or all of these advantages
The time you spend on your sales process is reduced dramatically
You have more time to focus on your core business and understand your customers
You have a much more efficient and organized sales process in place
Above all, a much better shot at productivity
Factors to Look in Shopify CRM?
A good Shopify CRM solution should offer:
The ability to see all customer interactions and transactions in a well-organized manner.
Tools for up-sell and cross-sell existing customers automatically and based on pre-set segments.
Seamless integration with the promotions module of your e-commerce platform.
Analytics that let you know – based on what customers bought – what they want, or might want.
Have separate level views for service issues, pending orders, overdue invoices, etc. – operational automation.
Related to the above – have complete customer insight every step of the way – regardless of the channel, the customer came in through.
Here is a list of the Best Shopify CRM Software tools to use in 2022 (and Beyond) reviewed by the Shop eGrow Team.
Best Shopify CRM's
Zoho CRM
Bigin
HubSpot CRM
Pipedrive
Copper CRM
1. Zoho CRM
Zoho CRM system help businesses understand and address customer needs better by centralizing all their interactions and data from across different channels and departments. It also provides a wide range of tools to sales and marketing teams to streamline and optimize the entire sales cycle from lead generation to post-sales support.
Combining this with powerful automation, in-depth analytics, and reporting as well as robust AI capabilities, a great CRM system helps you deliver great customer experiences across different channels and consistently drive growth.
Also, Zoho CRM brings the best of general-purpose solutions and vertical solutions under one roof. With Canvas, they are empowering you to redesign the user interface of the CRM, and create a personalized instance that meets your specific requirements and preferences. You can do this without writing a single line of code.
Why Zoho CRM is the best?
Zoho CRM has so many features inbuilt into it. Here are some of the best things in Zoho CRM.
Make CRM, your own – you can customize everything in Zoho CRM.
Blueprint – Sales process automation
Omnichannel CRM
Predictive Sales Using Zia – AI.
Marketing Automation
Gamification features
Canvas – new feature.
How much will it cost?
Zoho CRM is a cloud-based Shopify CRM that offers five different editions each comprising different features focusing on specific business needs.
Free – Free for 3 users
Standard – $14/user/month & $20/user if Paid Annually
Professional – $23/user/month & $35/user if Paid Annually
Enterprise – $40/user/month & $50/user if Paid Annually
Ultimate – $52/user/month & $65/user if Paid Annually
Each edition contains a different set of features that can be accessed after purchasing. Before purchasing an edition you should understand the requirements of your business so you can select the appropriate features.
Zoho also offers a 15-day trial version for Professional, Standard, and Enterprise Editions. You can sign up for the basic or Free Edition to evaluate all the editions before purchasing.
Pro's
You Can Customize everything ( Modules, reports, views, fields) in Zoho CRM.
Extortionary Sales process automation
Complete Omnichannel experience
Predictive Sales Using Zia – AI.
360 view of customers.
Con's
2. Bigin
Bigin is a Pipeline-centric CRM built and priced for small businesses, which is designed to make your sales process more effective. It offers a box solution for all your business needs and eliminates the use of spreadsheets and other third-party applications that function in silos.
With Bigin you get all the functions you need to carry out your business without the need to rely on external sources. Bringing your entire business into a single system enhances the relationships with your customers and streamlines your sales process, enabling you to make your sale successfully and quickly.
Why Bigin is the best?
Most Shopify businesses have limited resources and it's important to make the best use of them. Bigin helps you do exactly that. The simple user interface keeps the time required to learn to use the product to a minimum and the powerful tools take care of your most commonly repeated business tasks and perform them exactly the way you want.

Imagine you just started a Shopify business and have a handful of customers. Keeping track of them is easy, and you can carry out all your business tasks yourself. Once your business starts attracting new customers, it becomes more difficult to keep up.

Bigin is your secret weapon to organize your business data into Contacts, Companies, Deals, and Activities allowing you to see what areas need your attention and when. Bigin helps you to communicate effectively with your team enabling you to work together as one. This helps you focus more on your customers and increase your productivity.
How much will it cost?
Bigin is an offshoot of Zoho CRM. It is a pipeline-centric CRM solution built and priced for the needs of small businesses. Bigin is a simple-yet-powerful CRM solution that lets small businesses keep track of their deals, organize contacts, oversee activities, and manage their customer relationships.
Bigin CRM is a cloud-based Shopify CRM that offers two different editions each comprising different features focusing on specific business needs.
Free – Free for a single user
Express – $9/user/month for Monthly plans & $7/user/month if Paid Annually
Pro's
Sales teams can close more deals with clean pipeline management
Plenty of documentation available to look at
Support is amazing
Less clutter than Zoho CRM, which makes data management easier
Con's
Call lag needs fixing; I hate when we're stuck in the middle of the conversation
Zoho products are seamless to integrate with, but other software is inconvenient.
3. HubSpot
HubSpot CRM is a perfect Shopify customer relationship management software (CRM) for any Shopify business that wants to organize leads in a way that empowers its sales team to close more deals and promote more offers.
If you own a recently started Shopify business, if you're part of a marketing team, or if you run a sales team, then HubSpot CRM will be an inspired choice.
Since HubSpot CRM integrates with a suite of marketing apps, it's also perfect for any small business owner. You can use HubSpot to help with content marketing, direct sales, or marketing automation.
Why HubSpot is the best?
HubSpot provides a truly full-stack marketing suite that allows you to manage leads, build forms, automate marketing, and synchronize with your team.
HubSpot offers an "all-in-one" marketing suite that includes a free CRM at the core.
You'll also find a wealth of marketing goodies and training on the HubSpot website. Free training, free courses, a top-notch marketing blog, and a collection of nifty marketing books … HubSpot seems to have it all, and they're at the top of their game from a content marketing perspective.
How much will it cost?
The best part about HubSpot CRM is that they offer a "free forever" plan.
As a Company HubSpot needs to make money. They do so by offering premium upgrades that enhance their CRM core.
Here is the list of their premium add-ons.
Marketing hub – The marketing hub is $50-$3,200 per month and offers advanced features to help turn your leads into paying customers.
Sales hub – The sales hub is $50-$1,200 per month and is perfect for closing more deals.
Service hub – The service hub is $50-$1,200 per month and is ideal if you want to offer top-notch support to your clients and customers.
HubSpot CMS – HubSpot CMS is $300 per month and can quickly handle your entire web presence if you wish. Launch beautiful web pages, blogs, and landing pages, and split test everything using the HubSpot CMS and suite of marketing tools.
Pro's
"Free forever" plan available
Super scalable CRM stack and marketing suite
Track Pipeline
Log Activity
Con's
Basic Reporting.
Workflows can be confusing and hard to understand at times.
Lacks Flexibility.
4. Pipedrive
Pipedrive CRM is a leading Shopify CRM service that seeks to make the sales and relationship-building process more efficient than ever. Pipedrive helps you easily import your leads, assign them to your salespeople and move them through different stages of the sales cycle.
What are Pipedrive CRM's best features?
Pipedrive boasts a number of great features that sales teams are likely to find useful:
Build, label, and manage your own custom pipelines and process stages
Track your complete contact history from start to end
Pull leads from chatbots and email forms and through integrations
Track communications and have full visibility
Get complete control over your business data and sales paths
Automate tasks with Pipedrive and its integrations
Automate lead sourcing and build relationships
Crucially, Pipedrive provides the above features and more with efficiency, thanks to a user-friendly UI. You can learn more PipeDrive CRM Features from here.
How much will it cost?
Pipedrive CRM is flexible and cost-effective. The Pipedrive CRM is currently available to new users at the following levels:
Essential – US $15 per month, per user if Paid Monthly & US $12.50 per month, per user if Paid Annually
Advanced – US $29 per month, per user if Paid Monthly & US $24.90 per month, per user if Paid Annually
Professional – US $59 per month, per user if Paid Monthly & US $49.90 per month, per user if Paid Annually
Enterprise – US $99 per month, per user if Paid Monthly & US $24.90 per month, per user if Paid Annually
Pro's
Easy to use intuitive interface
Mobile application access
Sales forecasting & their reports
Email marketing & management
Customer data management
Data import export facility
Con's
Campaign planning is missing
A/B testing feature
Behavior & ROI tracking
5. Copper CRM
Among Shopify CRM software, Copper CRM is one of the options with the smallest learning curve. It is incredibly user-friendly. Additionally, Copper has an extensive help center available through its CRM interface, including a detailed FAQ and startup guide.
Copper's automated features for sending team members suggestions about potential sales leads and assigning tasks further simplify using the software.
How much will it cost?
Copper is a cost-effective CRM option for Shopify businesses that don't have a huge budget.
The Basic tier costs $25 per user per month if billed annually & $29 per user per month if paid monthly. It has a limit of three users and a limit of 2,500 contacts per month.
The Professional tier costs $59 per user per month. There's no limit on the number of users, but there is a limit of 15,000 contacts per month.
The Business tier costs $119 per user per month. There's no limit on the number of users or contacts per month.
Pro's
Complete G Suite Integration
Sales automation
Pipeline management
Task notifications.
Ability to have custom fields for information and process.
Easy upload of new contacts.
Con's
Lack of Features for CRM
Lack of Flexibility Outside G Suite
Customer Support needs to be quicker
Conclusion
Setting up the Shopify CRM system takes time and effort, so you have to be confident that you won't outgrow the platform of your choice too soon.
Among the alternatives above, Pipedrive, Copper, and Capsule might work best for small and medium Shopify businesses. They're easy to set up, don't require big investment upfront, and can scale with your organization to a certain point.
If you're running an established eCommerce business that already has all the processes in place and is looking to scale up to the next level – Zoho & HubSpot might be a better option. It's much more than a CRM, as it comes bundled with powerful marketing automation and a sales platform.