You might have a small customer base for your eCommerce business, but there are several eCommerce growth methods to help you expand!
In this post, we'll look at 40 eCommerce Growth Strategies from some of the best eCommerce experts. I'll show you how to increase your income and enhance your conversion rates without spending money on advertising.
Read on for expert suggestions on how to provide your consumers with an internet purchasing experience that they'll love, encouraging them to return again and again!
40 Tips for Ecommerce Growth by eCommerce experts
#1: If you can't beat them, join them.
You won't be able to compete with Amazon. You could one day surpass Amazon. However, big-name ecommerce companies have a near-monopoly on the world of internet shopping.
And until some drastic shifts happen, it is to your best advantage to have some products moving through Amazon, eBay, and Rakuten, among others.
Joining up, at least in part, with one of these ecommerce giants and any other channel you can get your hands on for maximum market potential.
After you've established your brand on one of these platforms, people will begin to visit your independent website.
#2: Take the initiative.
Whether they're customers, partners, clients, or anybody else, help them recall you using a follow-up or a check-in.
Connecting and networking make the world turn, and when business is slow or you need a pick-me-up, there's always a plethora of nice faces to call on for help.
Don't be cheap when it comes to marketing; let your consumers know what's back in stock or what seasonal discounts you have going on.
Reach out to another shop and propose a joint Instagram campaign with them. Maintain a positive image in the minds of others. Keep yourself looking young and active.
#3: Plan ahead of time.
In other words, make it clear what your company's goals are.
Having a road map, with stops, interim objectives, and backup plans, maybe a long-term answer to your problems.
Don't be scared to be precise or ambitious; maybe you want your firm to become the next Amazon. What would it take to get you there? Is it a matter of gaining 2500 new customers in the next two years? A local manufacturing plant and a fleet of 200 trucks?
We'll help you stay on track and make sure that your goals are met. Scour the details of your road to success, and prepare for each of them in advance.
You'll be more in control of your online business development once you know how and when to use it.
#4: Make use of Content marketing.
Blogging truly does work. There is simply no better approach to gaining audience attention, establishing credibility, and running an SEO-driven marketing campaign than through blogging.
Writing articles may be an effective way to help grow your ecommerce business. It's a fact: creating content is a full-fledged business in and of itself, and it can be a great method to promote your brand.
You might also start by creating content before getting into the world of commercial enterprise.
YouTubers and Instagram celebrities whose webcam material has resulted in the creation of multi-million dollar ecommerce platforms provide further proof.
Build a following by building trust and credibility with your customers. Offer thoughtful and well-researched content in addition to your product to show that you know what you're doing.
#5: Influencer marketing is gaining popularity.
Do you want young people to vote? To reach them where they are, work with social media luminaries to have your items recognized.
Email campaigns are marketed by ecommerce marketing solutions as a method to contact clients, yet children today are almost exclusively reached via platforms like Instagram, Youtube, and Twitter.
Live comments from well-known personalities may also assist lend credibility to your as-of-yet-unknown items early on in your ecommerce career.
Consider sponsoring a video or collaborating with a well-known Instagrammer to pique the attention of the younger millennials and zappers if you have enough money.
#6: Determine your brand's identity.
The key to getting customers to notice, recognize, and return to your business is branding.
Every touchpoint in your client experience should provide a brand experience, including social media marketing campaigns, shopping and purchasing experiences, and customer support.
The objective of any retail business is to become a household name, and the process of solidifying who you are and what you're about before synthesizing it into an instantly recognized brand is how you get that started.
#7: Invest in scalable customer service.
Businesses thrive when they have superior customer care procedures in place. This is for your workers as well as your consumers.
As your company expands, you'll have more client queries and complaints to address.
Customers need to feel that their concerns are addressed and taken care of, as well as a minimum waiting period and maximum attention from your customer service employees.
This begins with a program or policy that allows your reps to do their tasks.
Customer service solutions that you invest in should be able to develop with you, allowing you to keep your customers pleased and cared for at all times.
#8: Ramp up Your Customer Service with chatbots
Customers are more inclined to buy from you if you provide excellent ecommerce client service and can be reached readily since they know that should they have a question or an issue, you will be accessible.
Remember, we live in a world of impatient consumers who demand fast results, which is why Chatbots – automated customer service software systems enabling online chat without human interaction – are an excellent way for your users to quickly get in contact with you.
The chance of the sale is improved if you can respond to a question quickly, therefore your conversions should rise.
What does this have to do with Chatbots? You've probably heard of chatbots, but what exactly are they? These digital assistants operate on platforms like WhatsApp and Facebook Messenger.
There are some free "out of the box" Chatbots that you might consider, as well as others that can be built and customized to your specific needs.
If you're an ecommerce firm with multiple sales channels, you might find it useful to have an ecommerce helpdesk like Zoho Desk that gathers customer questions from all of your sales channels, social media, and email into a single shared dashboard.
Many ecommerce companies have recently embraced content as a strategy to increase sales and brand recognition. Content marketing is one of the most successful and proven ways to help your e-commerce business thrive.
Unfortunately, many business owners overlook the value of this approach since it takes time and effort to produce results.
It's a long-term plan that only works if quality and consistency are present!
However, only when done correctly can effective blogging and publishing interesting material on your blog help you improve your organic SEO.
It's a lot easier said than done. It won't work if you only publish once or twice a year. If you just write about sales-oriented stuff, it won't either.
The more helpful and interesting content you offer, the more popular your ecommerce enterprise will become online – and the more consumers you will attract.
Sending bi-weekly, weekly, or monthly newsletters to your prospects and clients – again tailored towards educating and assisting them – will serve as a reminder of you.
It will also help them trust you, as well as teach them that you are the authority in your area – making them more likely to buy from you!
Why is that? Blog entries and newsletters should be instructive, interesting, and useful – think e-guides, checklists, "how-to's," and similar subjects geared toward your target audience.
At least once a week, post on your blog and send out a monthly newsletter.
You may outsource this to a professional content writer if you don't have time or the ability to generate your own material.
Like blogging and distributing material through a newsletter, social media is an excellent ecommerce tool that may help you gain a wider audience and influence consumers with your products or services.
With a significant number of followers, your brand will have a larger chance to be seen by prospective customers.
If you don't already have one, create one on Facebook and Instagram now.
These platforms are particularly important for the opportunity to promote product discounts or special offers, so you'll need a strong presence there.
It's also a good idea to make sure that your social media posts are focused on providing value and useful information to your followers. You should provide genuine, helpful content alongside your product or service.
How can you do it? Every day, post something. Yes, really! As with your blog articles, consistency is essential since it helps to implant your ecommerce business in the thoughts of your target audience.
Get a good variety of postings on your blog. Sales, product advertisements, and instructional and informative articles are just a few examples.
Spread your ecommerce company across all social media platforms, such as Facebook, Instagram, Twitter, and LinkedIn, to really expand your audience.
#11: Give Google Shopping a Try
After a time when its paid-for service was the only alternative available, Google Shopping now offers free advertising to merchants. So, why not take advantage of this opportunity to help your ecommerce business develop?
You can add your items to Google Shopping ads in order to get them in front of customers, which is a kind of comparison search engine.
The thing I like most about them is that they are also visually appealing. A typical Google Shopping ad includes a product picture, price, and your company or store name.
Customers will see your product description if it meets the criteria they're looking for when they search for a product on Google.
You'll only be charged when someone clicks on one of your Google Shopping advertisements.
How are Google Shopping ads set up? They're built using data from a merchant's data feed that you provide.
These require less ongoing effort than the previous two options, but they do take some time to set up at first. To make a product feed for Google Shopping Ads, you'll need to convert your inventory into Google Shopping Feed.
You'll also need a Google Merchant Center Account and a Google Ads account to complete the process.
This is a simple procedure, especially if your ecommerce business is run on Shopify, Magento, BigCommerce, or WooCommerce since they all have an app that aids in product feed management.
#12: Use omnichannel marketing if possible.
Omnichannel simply implies "using all channels," which means a simplification of all your marketing activities.
It's all about providing a single, consistent customer experience from any device – whether they're surfing on their phone, laptop, or tablet.
In this scenario, a shopper may add an item to their shopping cart while reading your site on their laptop.
They get sidetracked and don't return to your ecommerce site until later when they're browsing on their phone.
Rather than forcing the customer to start from scratch, omnichannel marketing allows you to ensure that they can complete their purchase promptly and easily.
Omnichannel marketing allows you to eliminate the need for your consumer to repeat phases of the purchase process, resulting in improved conversions.
How can you do it? To be able to create and implement an omnichannel strategy, you'll need to research and understand each of your client touchpoints.
The secret is in your consumer's actions. You'll need to gather data and follow your customers' journey to purchase, then adapt the marketing approach.
#13: Expand Your Email List
If you don't have a location on your website (or after order completion) where consumers can sign up for news, discounts, and information about your items or services, you're missing out on a significant portion of ecommerce that may help you gain more sales.
Email marketing is a straightforward strategy to boost sales and develop your company.
However, to begin, you must first build your list. The more people on your list, the more prospects you can develop a relationship with and the greater number of conversions you will receive.
How? Make a big sign-up form readily available on your ecommerce website and at the conclusion of the purchase process, as well as on your Thank You page after the transaction has been completed, asking people to join up for a special discount code, free gift, or similar.
Subscribers provide their email addresses in exchange for a free gift, so you can build your list and they may get better discounts from you in the future.
Pro-Tip: It's critical that you stay in communication with your list on a regular basis, and that you don't just sell to them! Send out your newsletter once a month (or more often) with special offers, early-bird pricing, and freebies. Consider birthday and seasonal discounts to increase client loyalty.
#14: Sell to Customers outside of your country
It's as simple as growing your ecommerce operation internationally!
In fact, it's so obvious that it's frequently overlooked. The potential gains you could get just by targeting consumers in several countries are enormous.
Cross-border ecommerce is exploding, and with more people having access to the internet, consumers across the world will have greater access to companies like yours.
It can take some time to replicate your present success in new countries, and it will necessitate some setup – particularly with regard to your product listings.
When selling to new customers, where feasible, you should offer them in their native language. You'll get a higher conversion rate as a result.
How? Ecommerce sites with translation plugins and add-ons are available in most countries.
However, to avoid errors, it's ideal to get a professional translation done. You'll also want to make sure your payment processor is able to take payments in the local currency of the country you're working in.
Now let's look at some more advanced eCommerce growth strategies that you can implement to complement the basics.
#15: Customers' Experiences Can Be personalized
The days of treating your ecommerce business as a one-size-fits-all are long gone. Rather than focusing on a one-size-fits-all solution, you should consider individualizing the encounter for your consumer.
Why? Because, according to growcode research, more than 80% of customers are inclined to buy from an online store that creates personalized experiences throughout their entire journey, including browsing to email, social media engagement, and paid advertising.
What exactly are personalized experiences, and how do they work?
Displaying more relevant products to a specific visitor! Consider it for a moment.
Potential customers are more inclined to buy if you have items or services that are highly relevant to them.
According to Epsilon's study, 80 percent of customers are more inclined to buy from a firm that provides these personalized services.
How? Personalization of the content on your ecommerce site allows each visitor to see a page tailored to them, such as product suggestions or favorites.
However, in order to achieve optimum personalization, you'll need a significant volume of information.
For example, previous visits by the same person to your site, their location, gender, age, when they arrived, and their interests.
There are many technologies involved in creating your personalized journey.
#16: Is Your Website Mobile Ready? Now Is the Time to Become 'Mcommerce' Optimized.
Having a mobile-friendly and adaptable website is beneficial, but optimizing for mobile commerce may help you advance even more.
The goal? To make your customers' purchasing journey through mobile even more pleasurable.
With four out of five Americans now internet customers, and over half using a mobile device to make purchases, it's no surprise that consumers won't tolerate sluggish shopping experiences.
How can you do this? Improve the efficiency of your ecommerce store for e-commerce. To increase mobile sales, evaluate the design and usability of your mobile shop and checkout process.
#17: Be visible to them where they're most active.
The retail business is evolving, and consumers' perceptions are shifting as a result. Amazon was regarded to be the big bad wolf in the past by retailers.
However, with Amazon accounting for 41% of all internet search traffic, the business is now adopting an "if you can't overcome them, join them" approach.
The fact that Amazon is often the first place people go when searching for a product, especially when it comes to style and price, must be taken into consideration.
You need to have your goods on Amazon (or some of them) in order to grow in 2022 and beyond.
You need them to be discoverable in that market – or you'll be losing out on a lot of potential sales.
The same may be said about other marketplaces like eBay and Rakuten. We are moving towards a more integrated approach to commerce in which you can sell online, through marketplaces, and in person.
Today's most successful businesses sell in all channels, and they're early adopters of new channels like social commerce and Jet.com.
When it comes to marketing, with its plethora of tools and features, Amazon is undoubtedly the most comprehensive.
However, for those looking for big growth this year, they should reconsider their current channel strategy and figure out how to start using more holistic discoverability potential with their products. The starting point is on Amazon.
#18: Allow your evangelists to be more engaged and empowered.
Organize a street team or make it as simple as possible for your brand's evangelists to promote your product.
If they buy your product or provide you excellent feedback, offer them the chance to earn a commission for each customer they bring in.
It's simple to give a customer a discount or gift card if they refer a friend, but it's more successful to pay people for bringing you, new customers.
Make it easier for your evangelists to promote your brand by providing them with T-shirts with your logo and URL, easy-to-share Tweetable links, and marketing materials such as banners.
Give your most loyal customers the newest items for free so they can offer them to their friends and followers.
#19: Get Back to the Basics
In 2022, we expect a continuation of the current trend for rapidly expanding multi-channel retailers to "return to their roots."
Larger firms are recognizing that selling online is a volume game, and they need to establish an advantage over their competitors by offering aggressive pricing combined with more efficient operations.
Focusing on the basics of a solid infrastructure on which they may grow and restricting wasted time due to a lack of system connections becomes critical.
On a scalable platform, more integrated systems equal higher bottom-line margins.
#20: Spy on Your Competitors
The one growth technique I've been keeping to myself that I'll use a lot more in 2022 (and beyond) is employing tools like SEMrush and Ahrefs to find out what my competitors' top-performing content and products are.
With that information, you may incorporate similar or comparable items to your product mix and create better content that you already know is ranking and performing well for your competition.
Let your rivals do all the hard work for you in 2022.
#21: Create Question Answering Content to Promote Your Site
Potential customers in your niche are asking search engines and discussion boards a lot of questions, whether you're selling spare auto parts or matcha tea.
Creating blog entries that teach your visitors things they want to learn more about your sector is an often-overlooked approach.
#22: Create New Demand Channels
If your existing sales channels, like Amazon and eBay, have halted or begun to decrease, you may use new outlets like Sears and Rakuten to revitalize your business.
Make use of technology tools like ShipBob and ResellerClub to generate fulfillment orders for your Amazon FBA stock automatically, eliminating the need for individual product delivery.
This way, you may expand your firm without having to hire more workers or pay for extra storage space.
#23: Use Email Marketing to the fullest
Many ecommerce companies are making a serious blunder by disregarding the potential of email marketing. They believe that email is "obsolete." It's not.
When it comes to acquiring new customers, email is 40 times more successful than Facebook and Twitter… TOGETHER!
Even if you know nothing at all, you can get a 40:1 return on your investment with email.
If you aren't utilizing email to automate the process of "winning over" your prospects and earning their lifetime trust and loyalty, you're missing out on what I call "the greatest mass communication business tool created by man."
Your most valuable business asset is a large list of people who are looking forward to hearing from you. You want them excited about what you're up to next, and ready to "leap" at the same time!
The power of email makes it the most popular platform, in addition to being free.
In conclusion, if you follow business gurus who state, "Email is outdated," you're listening to the wrong people!
#24: Get Approved for Amazon Prime
There will be several advantages for sellers who are accepted into Amazon's Merchant-Fulfilled Prime program over the next two years.
Amazon has new ways to get products ready for delivery. One way is that you can ship your items to Amazon and then they will take care of it from there. You also have the ability to sell on more than one channel, which means you don't have to split up your inventory by Amazon fulfillment centers.
Multi-channel growth provides more long-term success by expanding sales across many channels, whereas Amazon Prime Now and same-day delivery provide step-by-step short-term growth potential for an Amazon seller located in a large metropolis.
#25: Identify and Profile Your Most Important Customers
Only a small proportion of customers are responsible for the majority of a company's revenue, according to 57% of business owners. It's the 80/20 principle in action for consumers – 20% generates 80% of the income.
If you want to get the most out of your time and marketing dollars, you must identify and profile this 20%.
What are the major similarities between them? What products do they buy? What marketing channels did they use to discover you? Then develop your company around them.
Customer Value Optimization is a term that describes how businesses optimize their customer value. It's effective.
#26: Use Your Most Influential Customers to Attract New Customers
Identify your most valuable clients to encourage them to promote more new client acquisitions through word of mouth or referral marketing.
Using an RFM analysis will assist you in discovering your most valuable customers, such as recent purchases ('Recency), frequency ('Frequency'), and monetary evaluation ('Monetary').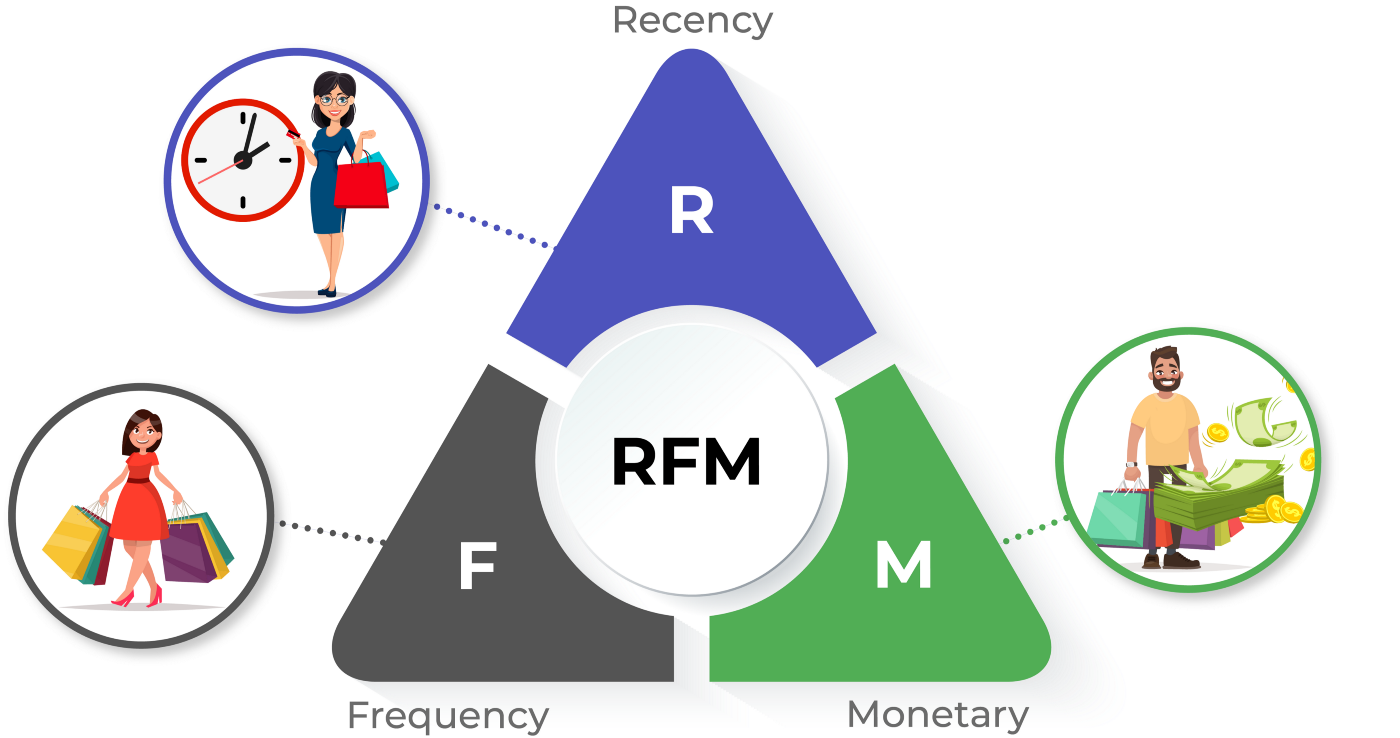 Within this group of high-value clients, there will be a subset of social media influencers, as indicated by their Klout scores and social following.
Contact this group of influencers in order to collaborate on unique promotional initiatives that will bring in new consumers from their following and followers.
Use your most important customers to grow your brand and attract new consumers in 2022.
#27: Keep track of your performance metrics.
Start being data-driven! Small businesses typically operate on faith rather than monitoring critical metrics like traffic and conversion rates.
Treat your marketplace listings as a continuous process rather than a one-time product. Continually evaluate your conversion rates and optimize your listings.
For example, just listening to your clients' communications may provide you with a wealth of information.
When a consumer asks you a question, it implies that the content on the ad isn't effectively conveyed. Make any necessary adjustments and check your conversion rates!
#28: Analyze Products for Maximum Profit
Because retail margins are tight, online stores must be certain they know which products should be offered where and the precise profit margin they're generating at the SKU (individual item) level.
Certain SKUs, for example, should only be offered on your website based on volume and profitability.
Sellers should perform a cost analysis on each of their individual SKUs on a frequent basis to ensure they are not selling goods that they are losing money on!
#29: Take the time to grow from the inside out.
Adding more items and sales ways is a typical technique for expanding a multichannel ecommerce operation.
That may work, but do you truly need any more complexity or admin in your company? Instead, seek development within yourself.
Do you need additional space for inventory in your warehouse? Is it possible to reduce product lines to free up the warehouse area? Is it feasible to work harder on improving volumes for your best products and then negotiate higher discounts from your suppliers as a result?
Growth often comes from improving what you have rather than going further out.
#30: Have One-on-One Chats
Artificial Intelligence (AI) software will assist certain ecommerce businesses to set themselves apart from the competition.
Online retailers that can inexpensively contact each of their potential consumers one at a time (making them feel like they're talking with a real person) will see significant increases in cart metrics.
#31: Make a Great First Impression with Your Brand Experience
The 2019-2022 forecast period will see Amazon's private label sales surpass all prior estimates. It's no longer a fresh idea, and the waves of sellers have largely completed the low-hanging fruit.
Sellers who want to compete as private label sellers on Amazon must up their marketing game by providing more value than the competition through innovative bundling, value-added packaging, and a commitment to the whole "Brand Experience" from start to finish.
Time to put on your marketing hats and turn up the volume!
#32: Facebook Lead Ads: What They Are and How to Use Them
Although Facebook advertising will have a significant impact on online marketing, it won't be used just any way.
In 2021, using Facebook lead ads will be one of the keys to success. There will be no more relying on people to visit your landing page and provide you with their email.
Users of Facebook lead ads may provide you with their email address (usually in exchange for a freebie or discount code) with the click of a button.
For less than a tenth of what it formerly cost, email list building is now possible for internet marketers.
#33: How to Have Lasting Relationships with Customers
Remember, don't be personal with clients. Let them get personal with YOU! Sharing common interests might go a long way in creating a genuine connection.
This implies interacting with people on a personal level via online groups and communities. Instead of promoting your company, use signatures for internet forums, or when requested for more information or real-world examples.
Make certain that your internet profiles include your title, company name, and a link to the correct website.
People who like what you're saying may check out your profile and contact you privately, learning about your business.
Check for restrictions on each group's rules; you don't want to be prohibited from "selling" in your postings because you didn't know.
The ultimate aim is to be a well-respected specialist or authority on a certain subject.
#34: Monitor emerging eCommerce trends
The development of the grocery and gourmet food categories excites me the most, in my opinion.
If you've never heard of these products, I strongly advise that you look into how this sector might complement your existing business model.
#35: Using data from a second party to boost your profits
The opportunity for data partnerships is going to be huge! "Second-party data" refers to someone else's first-party data, such as a customer or subscriber list.
It's not only valuable but a sought-after commodity when trusted partners are able to access each other's data. They can use it to get in front of a larger audience by providing high-quality, unique information.
It also generates another source of income for data vendors.
#36: Get Prospects to Take Action on Your Information
Create a landing page that encourages people to subscribe in exchange for a reward.
If everything else fails, offer a really good incentive – most likely a discount code and/or a free resource like an ebook or email course developed around your product.
Send them a series of emails after they've registered, each one containing a wealth of valuable, free information about a pastime or activity connected to your product.
Don't try to sell your goods until you've established yourself as a trustworthy source of information and your subscribers are accustomed to receiving your emails.
When you're talking about a subject that relates to your business, start mentioning your goods. You may also include discounts and other promotions in this role.
The key is to give visitors a compelling reason to join your list and then nurture that connection over time.
#37: Optimize for conversions
My goal for 2021 is to increase conversions. Because we place such an emphasis on things like content generation, traffic promotion, and paid advertising, this is a strategy that is frequently neglected.
We can get significant sales gains by optimizing conversions without spending any more money on traffic or devoting any extra time to producing material.
When it comes to conversions, most ecommerce sites have a lot of low-hanging fruit.
Instead of concentrating on solving all the problems at once, focus on making small, continuous improvements that improve the user experience, and you'll see your sales climb!
#38: Don't overlook the obvious.
People are always on the lookout for the most popular goods available on eBay. If that's what you're looking for, there are several websites that can assist you.
However, there are many ways to sell things you're enthusiastic about… such as your hobbies and passions.
Although not the most popular items, they may still be quite lucrative.
Always keep a notepad and pen handy, and jot down goods that spring to mind. Then research them to figure out how many times they're sold each month, how much they typically sell for, and how much you might buy them for in China.
Be vigilant, do your research, and you'll always have something to sell.
#39: Take Advantage of Amazon's Strengths
Get your items on Amazon FBA and take advantage of its massive reach. Customers are just waiting to buy things on Amazon, which is the world's largest marketplace.
Ride Amazon's coattails in terms of trust, traffic, and fulfillment.
The only drawback? You'll need to come up with some fantastic goods of your own because wholesale or dropshipping won't work.
#40: Inquire about feedback.
Master the art of requesting feedback. The impact of subtlety, clever wording, and timeliness on review results and overall customer retention is significant.
Last Thoughts on eCommerce Growth Strategies
Ecommerce growth doesn't happen overnight, but you can help it along with these top strategies from industry experts.
As the owner of an ecommerce store, you must make sure your business is always growing. In these fast-changing times, if you are not growing, you'll find you reach a stagnant state.
It's crucial to understand what your customers want and to experiment with all the advanced technology available so that you can improve the overall experience for your customer, and ultimately help your ecommerce business expand in 2022 and beyond.